My running journey began on June 15, 2018, when my mom died in the back of an ambulance on the way to the hospital. That was the moment I've been running from and chasing ever since. Practically speaking, I started running one evening in 2019 when, in a fog of depression and desperation, I turned to the sport to try to save me. I hastily picked out the most athletic shoes I could find and headed out the door. I didn't have time to find something to listen to at that moment, but I did flip up my wrist and tap on a running workout on my Apple Watch. In the midst of a mental crisis, I still wanted to record whatever distance I managed to cover.
At first, in the immediate months following her death, I thought I could escape the trauma of it all by introducing some exercise into my schedule. I assumed a casual walk around the block at lunchtime would be enough. And if I was exercising my body, I naively thought my mind would also be taken care of, too.
I had used an Apple Watch since the product was first released in 2015, but that catalyst moment in early 2019 was when I first started really putting it to work as a fitness device. Before then, it was mostly a wristwatch that showed me the time and some notifications.
Once I started running with regularity, the Apple Watch became something much more than a tiny computer on which emails popped up. Its music-playing capabilities, along with Activity rings and health data collection, were the main reasons the Apple Watch was the tool I needed to get me running more frequently, and then keep me running. Years later, I'm now up to more than 3 miles every single day.
A Mini iPod Music Player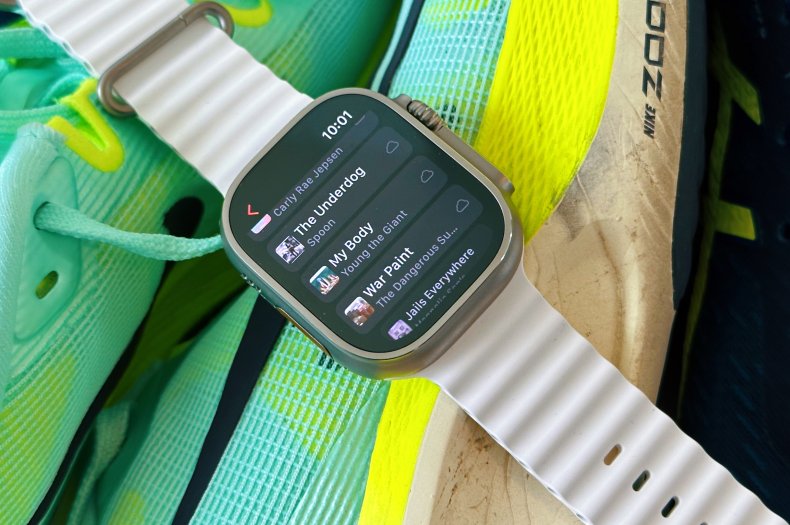 The single most important thing the Apple Watch did to help me build the habit of running was to provide a good way to listen to music. Though less obvious than the iPhone, I firmly believe the Apple Watch is a spiritual successor to Apple's culture-shifting music player, the iPod.
I tried running with my iPhone on occasion, but it was heavy and always inconvenient with regard to how it sloshed around in a pocket. Using the Apple Watch to run with, however, has been a massively better experience. Even the new, largest Apple Watch Ultra is almost invisible strapped to my wrist, paired with tiny wireless earbuds.
Listening to music gave me a chance to clear my mind by focusing on the lyrics—or completely ignoring them. The time I spent running gave me a chance to soak in the melodies and let them wash over me. But most important, I was excited to listen to the latest albums being released each week or old favorites that I had forgotten over time. Being able to press play on some songs like Griff's "One Foot in Front of the Other" or The Lone Bellow's "Count on Me" was the spark I needed to get me out the door and actually put myself in motion.
In fact, despite subscribing to multiple music services, Apple Watch is the primary reason I began to favor Apple Music over Spotify starting around 2019. I was able to sync playlists and albums from Apple's streaming music service and take any songs I wanted to on runs . It was the best portable experience early on, and it's still largely unrivaled.
Later on, it was the Apple Watch's apps like Audible and Overcast that let me listen to audiobooks and podcasts while I was circling the neighborhood. With these apps, there was always something new to listen to. When I took the plunge and got an Apple Watch with cellular connectivity, it unlocked the ability to decide on music at the last minute without my needing to sync it to the watch ahead of time. It helped remove excuses I would try to make to myself that I didn't have time to sync the content I wanted to listen to.
The Rings and Apple Health
Listening to music or audio was the primary motivation of the Apple Watch for me, but the running data it was collecting would eventually become another major incentive to continue building the habit. The impact of my aggregated running data over time was hard to ignore. Recording workouts and distances traveled provided a history that, even now, I look back on to prove to myself that I've made progress.
As part of that, the Activity rings helped me see which areas I was taking care of or neglecting. Before the Apple Watch, activity tracking was largely about counting steps. In my mind, that metric was arbitrary and one-dimensional. It didn't do anything to motivate me. In contrast, the visualization of three rings filling in with color for the different categories until they were complete or closed each day was immediately impactful. The separation of standing, moving and exercising made more sense to me. As I started running more, the green exercise ring became harder to ignore when it was left open or incomplete.
When I first started running, I could quickly glance at the app to see the few days I had closed my exercise ring. As I ramped up my running, I could see the ring closures coming more rapidly. It made me want to continue the trend. In January 2020, I ran about 40 miles. By May of that year, I was running more than 100 miles each month and closing my rings every day.
A New Milestone
I think it's important to recognize the products that have actually helped us achieve our goals or are pointing us in the right direction. The Apple Watch has been a critical part of my running story. It was immensely useful in helping me build the habit and it's still a companion I would have a hard time running without.
There are plenty of fitness trackers or smartwatches available, but when I first started, I appreciated the deep integration the Apple Watch had with my iPhone. It shares a lot of the apps that are useful on the go, and its exercise capabilities continue to grow. Playing audio without my phone has been great. These features might be what you're looking for to help you with your goals, too.
The first real milestone I set for myself was to run 1,000 miles in 2020. The next year it was to do 100 miles each month for a total of 1,200 in 2021. This year, my goal was different. I've had no problem keeping up my trend of increasing my distance, but I wanted something else. Finally, something the Apple Watch can't help me track. I've spent 2022 trying to figure out what my goal is long term, big picture. I started running because of grief, depression and fragile mental health, but that's not where I want it to end.