It's the Scottish revolution that is driving Australia's World Cup hopes and dreams.
Think of it as a mix of VB and Iron-Bru, sausage sangas with a side of haggis and that sweet, intoxicating underdog spirit that binds Australians and Scots.
Scotland has not qualified for this World Cup, nor any since France 1998, but they've found a team – beyond 'anyone but England' – to get behind in Qatar: 'the Jockeroos'.
Watch the world's best footballers every week with beIN SPORTS on Kayo. LIVE coverage from Bundesliga, Ligue 1, Serie A, Carabao Cup, EFL & SPFL. New to Kayo? Start your free trial now >
Because Scotland has been kind to the Socceroos – and not just because of the Braveheart trio with Australian parentage of Harry Souttar, Martin Boyle and Jason Cummings.
Seven of Graham Arnold's squad have been called on from the Scottish Premier League to spearhead Australia's campaign – and give the World Cup a potent mix of Scottish fire and Aussie grit.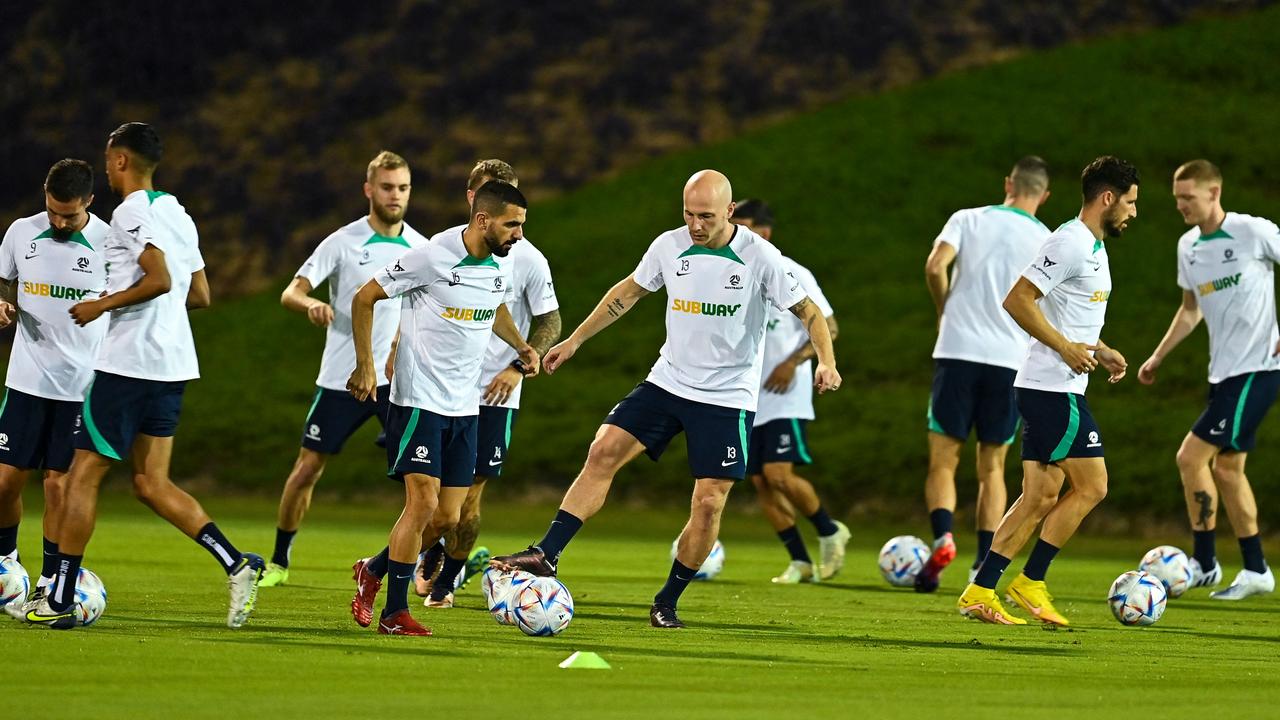 "The Scottish League is obviously super fast, super competitive and a very strong league and I think we just take those traits while we're here because of how we were playing at club level," says Cam Devlin, tenacious midfielder for Scotland's Heart of Midlothian.
"So we just try and take those traits into the national team and obviously if any of us get a game and that's what we'll do."
Devlin is far from alone. Scottish connections litter the squad.
Keanu Baccus' career has taken off since a move to St Mirren this season – to the point where he's in the sights of a number of English clubs eager to snap up the physical defensive midfielder.
So, too, Aaron Mooy – Australia's most recognizable and decorated player – who has enjoyed a career rejuvenation under the watchful eye of former Socceroos mentor Ange Postecoglou at Scottish giants Celtic.
Every other week Mooy finishes a game at Celtic and goes and shakes hands with a countryman – such is the proliferation of Australian talent in the Scottish Premier League, where seven Socceroos play their club football.
"They're doing well and bringing lots of energy into the group, lots of hunger," Mooy said of Scotland-based midfielders Baccus and Devlin.
"They want to prove themselves and this is important in football."
Meanwhile, Boyle was for the third day in a row key was a notable absentee from Socceroos training, but was this time joined by Souttar and midfield weapon Ajdin Hrustic – with the trio whisked away to perform individual duties away from the main group.
Souttar and Hrustic, who had taken part in a lighter session on Tuesday evening, were not tested as coach Graham Arnold put Australia through their most intense session to date, with next week's opener against France fast approaching.
The major concern of course is Boyle, who hasn't featured since injuring his knee playing for Hibernian last month. The Socceroos can replace the star up until 24 hours before their match against France, with Marco Tilio having been flown in as cover on Tuesday.
Such a move would end his World Cup – and there could be a view that he could still provide considerable value for Australia if he were to be fit to face Tunisia and Denmark, in their remaining Group D matches, even if he was unavailable for France .
This is why Australia is prepared to walk the injury tightrope and see how he responds over the weekend – knowing that his individual brilliance in those games could be the difference between an early exit and a shot at the knockout rounds.
– Adam Peacock
King of the spectacular, Riley McGree is intent on making a difference as the Socceroos search for its first goal from open play since the 2014 World Cup.
Four years ago McCree's scorpion kick goal in an A League semi-final went around the world a thousand times, and just last weekend he was at it again for Middlesbrough, producing an on-the-run martial arts maneuver to smash one in against Norwich .
"Yeah it was pretty good, up there with one of my better ones, maybe top five" McGree smirked on Tuesday morning in Doha.
McGree's eye for a goal is based on one pretty basic principle.
"If you don't try, you don't score. It's worked so far, hopefully it keeps working," the 24-year-old from Gawler says.
"Fortunate enough to score a few, hopefully continue to do that."
The Socceroos desperately need some final third inspiration. Tim Cahill's incredible volley against The Netherlands in Brazil eight years ago was the last goal scored from open play. Since then it's been Mile Jedinak from the penalty spot, and a series of missed chances.
McGree, who grew up in Gawler imitating legends in the backyard, would take a tap in from inside the six yard box.
"Definitely it would, in terms of the occasion and the event," McGree says when asked if such a goal would get inside his top five.
McGree's chances of starting against France are growing by the day, with Ajdin Hrustic struggling to overcome an ankle injury picked up in Italy last month. Hrustic has been restricted to work in the gym, while McGree comes to the World Cup having played the most minutes at club level of any Socceroos squad member.
"I'm fresh enough, been getting some good minutes, I'm doing alright, (but) obviously want to be better in every aspect but I'm content, and pushing to be better every day," McGree says.
Middlesbrough play in the Championship, where the football is brutal, time on the ball is minimal, as teams forget about the intricate details in the desperate chase to get promoted to the Premier League.
International football is totally different, with a more nuanced approach required to break teams down.
"In the Championship, if you hold on to the ball too much you are going to lose it, or know about losing it," McGree says.
"Coming into camp it's a little bit refreshing, you're not going to get laid out by someone. Or you'd like to think you won't!"
"I've learned a lot about the Championship, high level and a high intensity as well."
McGree joined Middlesbrough after turning down the chance to join Ange Postecoglou's revolution at Celtic, and doesn't regret the decision which has him playing on a Tuesday night in Hull instead of Champions League.
"The moment I made the decision it was validated. Stand by that decision," Mcgree says.
"In being where I am (at the World Cup), playing at Middlesbrough has contributed. Can't thank the club and players enough."
—Joe Barton
Australia's opening World Cup opponent France are facing a potential injury crisis.
Forward Christopher Nkuku was a stunning last-minute scratching with a leg injury following a heavy collision at France's final training run before departing for Qatar while, even more worryingly for coach Didier Deschamps, Ballon d'Or winner Karim Benzema was limited to light running drills as he struggles to prove his fitness.
Benzema has been plagued by a knee complaint this season that has restricted him to limited appearances for Real Madrid and sparked rumors that he's saving himself for the World Cup.
These suggestions were refuted by Real coach Carlo Ancelotti, whose angry denial seemed validated on Tuesday as Benzema left the training session after just 15 minutes of light running drills.
Nkuku will be replaced by Randal Kolo Muani, according to a report by French radio's RMC.
France have already been forced into some late changes to their squad with injured PSG centre-back Presnel Kimpembe replaced by Monaco's uncapped defender Axel Disasi, while forward Marcus Thuram – son of France great Lilian Thuram – was named as the 26th member of the touring party .
Australia will play France in their opening Group D clash on Tuesday (Wednesday 6am AEDT).
It comes after the Socceroos' World Cup plans were dealt a blow with star winger Martin Boyle's knee injury deemed serious enough for Melbourne City's Marco Tilio to be flown in as cover.
Tilio arrived in Doha on Tuesday, seemingly putting Boyle's place not only against France in doubt – but potentially his entire World Cup dream.
Boyle has not taken the field since copping a blow to his right knee last month while playing for Hibernian in the Scottish Premier League, and again failed to feature at the Socceroos' training session on Tuesday evening, with Tilio taking his place.
The Socceroos remain adamant it is business as usual, but with less than a week before Australia's opening fixture against France (Wednesday 6am, AEDT), time is running out for Boyle – and for Arnold, prompting Tilio's belated call-up.
Under FIFA's World Cup regulations, teams can replace an injured player, for a medical reason, up to 24 hours before their first game.
One of Australia's premier attacking weapons, it would be an enormous blow to Arnold's plans should the Scottish-born star succumb to the knee injury – with midfield ally Cameron Devlin suggesting Boyle would be a "massive loss" if unavailable, while stating the continued absence was 'precautionary'.
"Obviously over the years everyone can see what a big player he is – he does it week in, week out over in Scotland for Hibs. He's been a massive player for them and takes it into his country, for Australia," said Devlin on Tuesday.
"He'd be a massive loss – but I think it's just precautionary because we've got the first game in a week.
"But if he wasn't to play he'd be a massive loss."
Tilio, who represented the Olyroos at the Tokyo Games last year, was a tough omission from Arnold's original 26-man squad – having featured during the qualification campaign.
Last week, Tilio's Melbourne City coach Patrick Kisnorbo blamed "the hype" around the 21-year-old for his original omission.
"The hype hasn't helped," Kisnorbo said.
"Every week we get asked about Marco, it's only normal that sometimes people listen.
"He's young, he's got a lot of World Cups, potentially, to be part of.
"This is a test of his career. I'm sure he'll go through this and do himself proud and work harder and hopefully one day we'll see him at a World Cup."
That luck may come much sooner than expected.
France, meanwhile, are facing a potential injury crisis of their own with Ballon d'Or winner Karim Benzema unable to take part in the team's final session before they arrive in Qatar in Wednesday.
Forward Christopher Nkuku added a further headache for coach Didier Deschamps when he limped away from training due to a leg injury, according to a report by French radio's RMC.
Benzema has been plagued by a knee complaint this season that has restricted him to limited appearances for Real Madrid and sparked rumors about fitness issues.
The 34-year-old reportedly left the French training session after just 15 minutes of light running drills, while two other players – defender Raphael Varane and midfielder Aurelien Tchouameni – were able to complete the session as they look to prove fitness ahead of Tuesday's clash with Australia.
France have already been forced into some last-minute changes to their squad with injured PSG centre-back Presnel Kimpembe replaced by Monaco's uncapped defender Axel Disasi, while forward Marcus Thuram – son of France great Lillian Thuram – was named as the 26th member of the tour party.
.