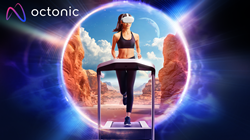 Treadmill running will never be the same.

NEW YORK (PRWEB)
November 16, 2022
Ever get bored with treadmill running? Today's fitness treadmill experience quite often is monotonous and isolating, even when supplemented with video screens and headphones. NY-based VR software startup Octonic has developed a solution that transforms the treadmill experience into fun fitness exercising adventures with a Meta (Oculus) Quest 2 or Quest Pro headset. Their app, Octonic VR, is now available for early access on Meta's AppLab and Itch.io through SideQuest VR.
Treadmill running will never be the same. Using Octonic's VR Motion Engine, runners will be able to enter a growing variety of virtual worlds controller-free with hand tracking. Current worlds include Caves and Canyons, a natural wonder environment where runners swing past scores of desert cacti, swerve in and out of caverns, and trot by towering mountains and arches. In Arena, runners transport themselves to an interplanetary stadium in a multiplayer match where they compete against or run with up to seven friends, AI bots, or random runners from across the world. In-game features allow them to communicate with each other as they race to the finish line. Experience VR for treadmill for the first time ever.
To effectively integrate with treadmills, the team at Octonic has built and thoroughly tested a proprietary 3-level safety system for VR fitness that provides real-time position tracking, a departure warning system, and automatic stop with Mixed Reality passthrough. As a result, runners will have both comfort and peace of mind as they seamlessly run and exercise in the metaverse.
While Octonic continues building partnerships with treadmill manufacturers for full integration of their VR Motion Engine, runners using non-integrated treadmills are able to utilize the product today with any brand on the market using the Quest's passthrough capabilities. Converting treadmills into a VR gaming adventure is as simple as downloading Octonic VR and using it to calibrate a Meta (Oculus) Quest 2 or Quest Pro with a treadmill in minutes.
Octonic is currently developing new virtual worlds, as well as an expanding set of features, which will be regularly released with new software updates. To get the latest news, sign up for their newsletter on their website.
Octonic's product is now available for purchase. Visit AppLab or SideQuestVR to start your VR workout today.
Share article on social media or email:
.